From Good to Exceptional: Andaz's Digital Leap with Spalba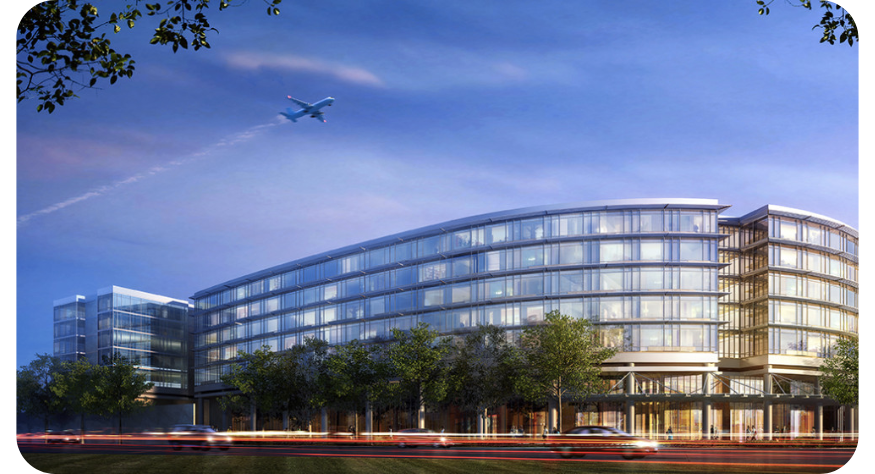 About The Property
5 star luxury hotel in Delhi, Aerocity having the largest guest rooms featuring one of 401 unique art pieces to celebrate a reason to fall in love with the city.
Banquet Space
Rooms & Suites
Property Type
At a Glance
This 5 star property needed a solution to increase their engagement and showcase their property in an immersive way. Andaz Aerocity chose as their preferred solution to enhance engagement and present their 5-star property in a captivating manner. By utilizing Spalba's VR-enabled digital twins, they gained access to a visually captivating and interactive platform, allowing them to remotely showcase their property to clients in an immersive way.
The Challenge
Before implementing Spalba, Andaz Aerocity faced several challenges. The  traditional approach of using photographs and physical tours for property showcasing resulted in a prolonged sales cycle.
Additionally, the manual intervention required for managing bookings and events consumed valuable time and often led to errors and delays.
The Solution
To overcome these challenges, Andaz Aerocity chose Spalba as their go-to solution. Spalba's VR-enabled digital twins provided us with a visually immersive and interactive platform to showcase our property to clients remotely. With a quick training, they were able to:
Impress Guests: Andaz captivated their guests with a unique VR-enabled walkthrough of our property and event venues.


This immersive experience allowed them to envision their events and made a lasting impression.

Streamline Sales Cycle: By showcasing their property remotely, Andaz eliminated the need for physical tours, significantly shortening the sales cycle. Guests could explore every aspect of the venue with just a click, saving time for both parties involved.

Enhance Event Planning: Spalba's digital twin technology enabled Andaz to make immersive presentations of the hotel from event planners' perspective. They could easily customize and design event mockups in minutes, providing guests with a personalized and tailored experience.
Take a Virtual Tour of Andaz Now, Here Below:
The Results
Implementing Spalba had a profound impact on our event sales process. The results achieved were:
Shortened Sales Cycle: By maximizing engagement and providing an immersive experience, our sales cycle was significantly shortened. The efficiency gained allowed our sales team to focus on new business opportunities and revenue generation.
Reduced Manual Intervention: Spalba's automation capabilities reduced the need for manual intervention in the banquet booking process. This freed up valuable time for our staff, improved accuracy, and ensured a streamlined customer experience.
Increased Revenue: The seamless and efficient booking process, coupled with the ability to showcase our property remotely, resulted in increased bookings and higher revenue generation. Clients were more confident in their decision-making, leading to a higher conversion rate.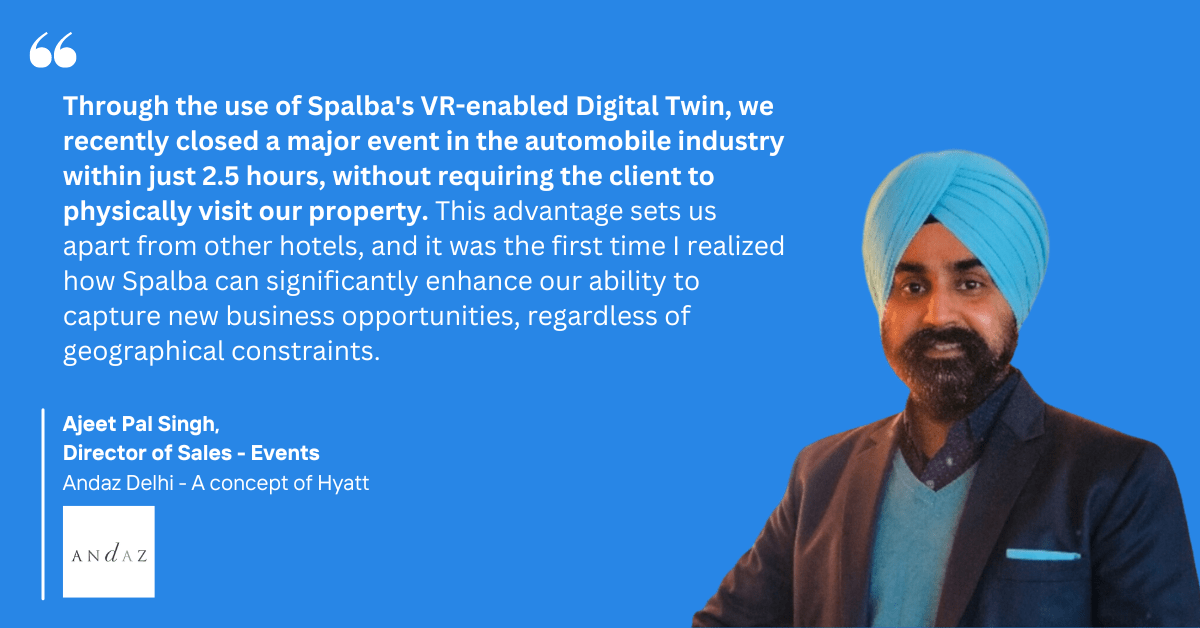 Conclusion
Through our partnership with Spalba, we have successfully transformed our event sales approach. The implementation of VR-enabled digital twins revolutionized our property showcasing, shortened the sales cycle, and provided our clients with an unforgettable experience. Spalba's innovative technology has positioned us as a frontrunner in the industry, allowing us to deliver exceptional events and exceed customer expectations.