As the hotel industry adapts to the ever-changing landscape of event planning, we understand the importance of staying ahead and providing an enhanced experience for event planners and clients. That's why we have been diligently working on a range of exciting enhancements to our suite of sales enablement tools. In this blog post, we are thrilled to introduce a smart feature called WAYFINDR – Auto navigate in Digital Twin, that acts like a navigating map for any venue while you are taking the VR walkthrough.
WAYFINDR - Auto navigate in Digital Twin
Imagine being immersed in a virtual tour of a luxurious property, standing in the elegant ballroom, and desiring to find your way to the captivating pool area. Previously, users faced difficulties in figuring out the correct route, often getting lost or overwhelmed within the intricate digital twin.

Indeed, this valuable feedback was shared by one of our users, Priyanka Maniktala, Associate Sales Director at The Oberoi, New Delhi. She highlighted the challenge of navigating within the digital twin, particularly for new users exploring the property.

Priyanka expressed the importance of ensuring a seamless and user-friendly virtual tour experience for her clients. 
Spalba recognized the need to simplify navigation and empower users to effortlessly discover every nook and corner of a property and thus WAYFINDR – Auto navigate in Digital Twin, was born.
So, what's new with Spalba VR-Enabled Digital Twins, and how does it help make the challenges we discussed a bit less stressful?
Let's find out!
Introducing WAYFINDR:
WAYFINDR, the latest feature developed by Spalba, is a game-changer in the world of virtual exploration. 
Eliminating navigation challenges within digital twins.

Offering predefined navigation options for seamless exploration.

WAYFINDR ensures users never miss out on important features and areas of a property.
How WAYFINDR Works: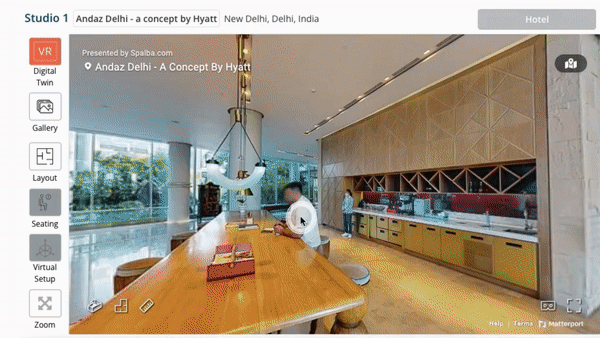 WAYFINDR operates on a straightforward principle: Simplifying navigation to enhance user experiences.
Within the digital twin, users are presented with a user-friendly interface featuring pre-defined paths or routes. Instead of wandering aimlessly or getting lost, users can now click on their desired path and let the system take over. WAYFINDR autonomously guides users along the designated route, automatically moving through the virtual environment, until they arrive at the specified location.
Benefits for Property Owners and Sales Teams: The introduction of WAYFINDR brings numerous benefits to property owners and sales teams, enhancing their ability to showcase properties effectively:
Enhanced User Experience:

WAYFINDR

 ensures a hassle-free and intuitive navigation, allowing users to effortlessly explore the entire property without feeling lost.

Increased Engagement:

With simplified navigation, users can easily find desired locations, encouraging them to explore more and gain a better understanding of the property.

Showcasing Property Highlights:

Strategic path design in the digital twin guides users to captivating areas, effectively highlighting the property's unique features.

Time and Cost Savings:

WAYFINDR

 streamlines exploration, saving time for property owners and buyers. Users can navigate swiftly and efficiently without assistance or extra resources.
Customizable Ways for Venue Owners: WAYFINDR offers venue owners the ability to customize and define paths within the Spalba platform. This allows owners to curate specific routes, highlighting key areas and showcasing unique features of the property to provide users with a guided tour.
Conclusion:
With the introduction of WAYFINDR, Spalba has responded effectively to user feedback, revolutionizing the way users explore properties within their immersive digital twin experiences. 
By simplifying navigation and offering pre-defined paths, WAYFINDR ensures that users never miss out on the unique features and areas of a property. This innovative feature empowers property owners and sales teams, enhancing their ability to engage potential buyers and showcase properties in a more compelling and accessible manner. As 
Spalba continues to drive innovation for the hotel industry, WAYFINDR serves as a testament to their commitment to creating immersive and user-centric digital twin experiences.