When you hear the phrase "corporate event," you might envision boardrooms and business suits. However, the world of corporate events is far more diverse and dynamic than that. Every business, regardless of its size or nature, hosts events for various purposes, from educating and celebrating to networking and selling. In this post, we'll delve into 10 distinct types of corporate events, each with its own unique purpose, location, and impact on a business.
In this blog, we'll explore 10 types of corporate events, from small meetings to large brand events, highlighting the diversity in the industry. Whether you're an experienced event planner or new to the corporate world, this article has something for you. Looking for any venue for your next event explore Spalba.
Round Table Discussions :
A round table meeting is a conversational business gathering guided by a single facilitator and is one of the important 10 types of corporate events. Usually, multiple speakers are invited to partake in this discussion, offering diverse viewpoints on a specific topic. Compared to many other types of corporate gatherings, round tables are relatively small and casual, often accommodating 20 people or fewer in modern settings. These discussions typically span one to two hours and can occur either in person or remotely.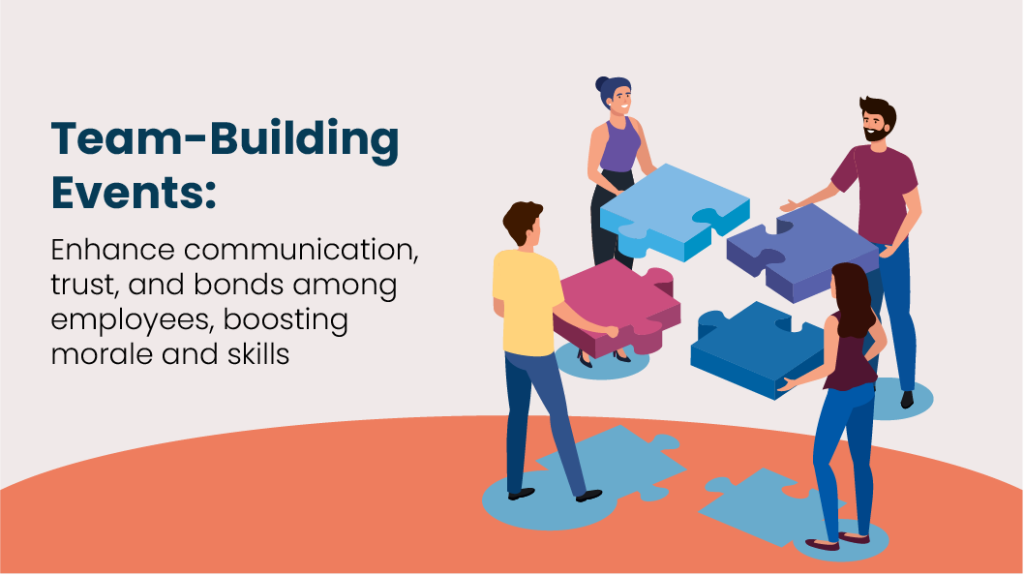 Team-building Events :
These events are organized activities or experiences designed to strengthen the bonds, communication, and cooperation among employees within a company or organization. These events aim to improve teamwork, boost morale, enhance problem-solving skills, and increase overall productivity. Team-building events can take various forms and may be conducted both indoors and outdoors. Award Ceremonies :
Acknowledge exceptional employees, supervisors, and other team members through the organization of a corporate awards event. This event serves as a platform to honor both individual and group accomplishments, commemorate the achievements of the company, and extend appreciation to employees for their unwavering commitment and effort. Nominate deserving individuals for various accolades, such as "Employee of the Year" or "Outstanding Leader," and encourage colleagues to participate in the selection process. Reveal the award winners during a formal to semi-formal gathering, complete with refreshments, a meal, and entertainment.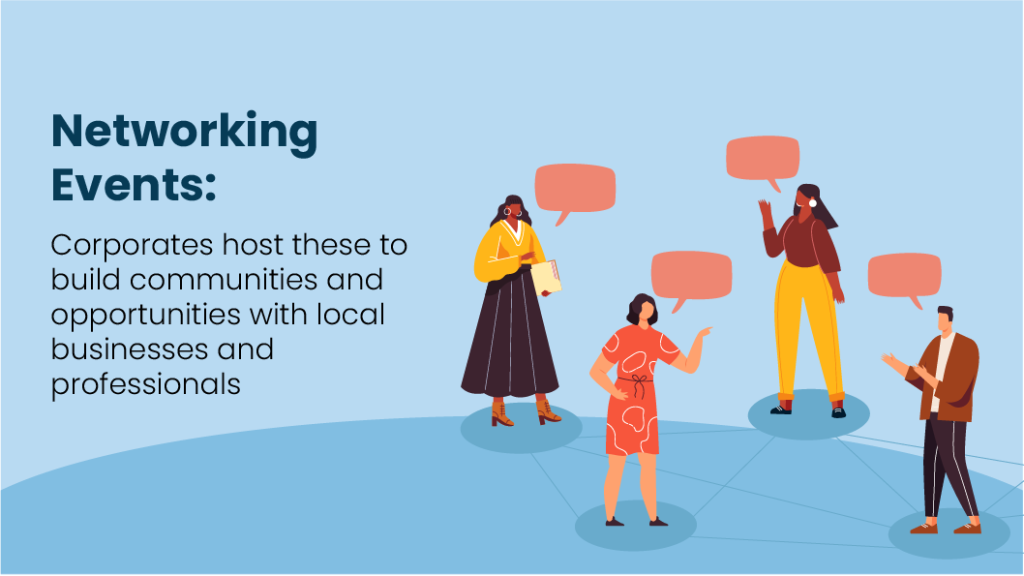 Networking Events :
Networking events are organized gatherings or occasions where individuals from various backgrounds, professions, or industries come together with the primary goal of building professional relationships, exchanging information, and expanding their professional network. These events offer valuable opportunities for people to connect, share knowledge, and explore potential collaborations.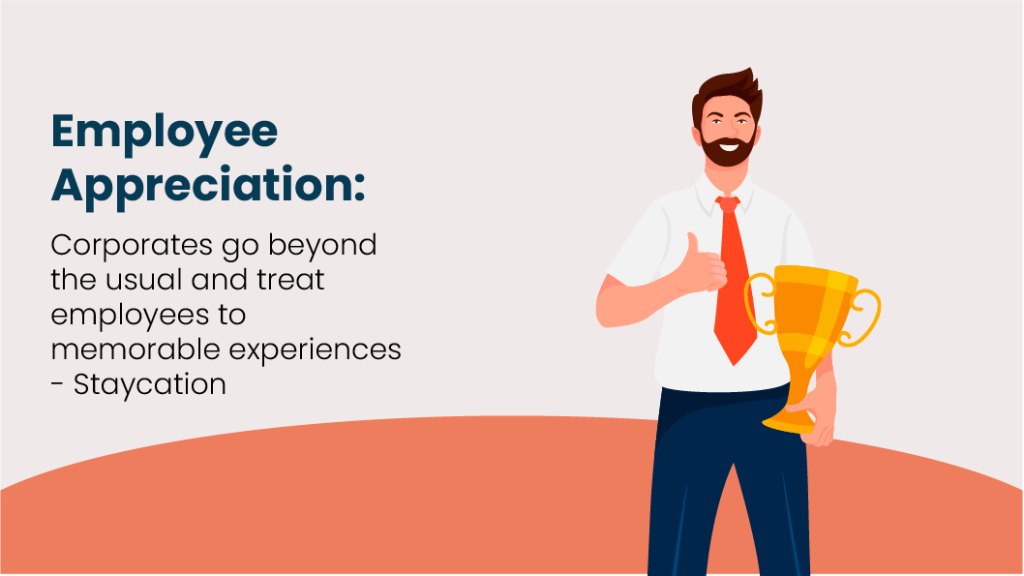 Employee appreciation events :
Employee appreciation events are special occasions organized by companies or organizations to express gratitude and recognition for their employees' hard work, dedication, and contributions. These events are designed to show appreciation, boost morale, and strengthen the bond between employers and their staff. For instance Take a field trip to the movies, host game day on the lawn, organize a company picnic, or surprise employees with an unexpected half-day.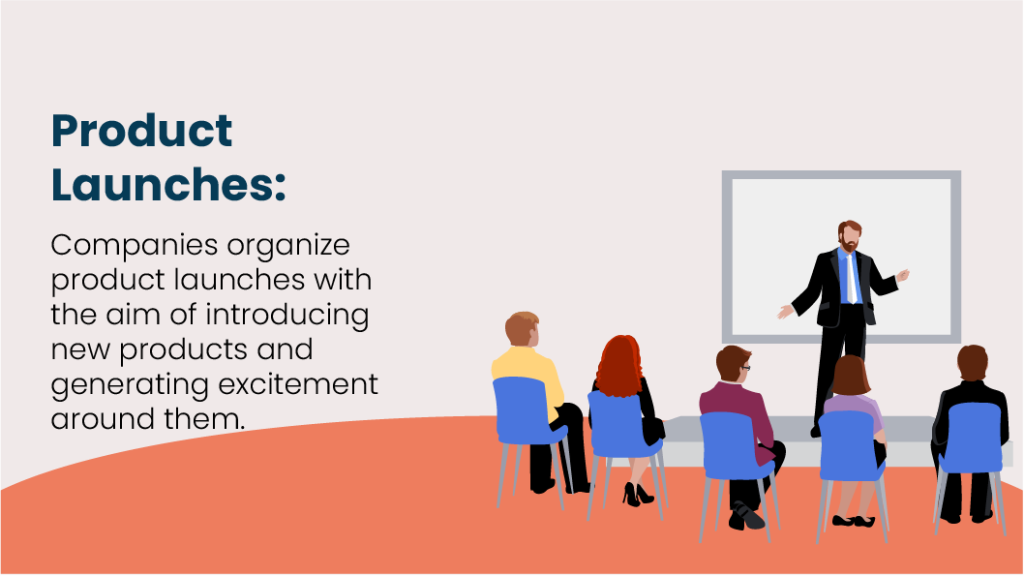 Product Launches :
Companies organize product launches with the aim of introducing new products and generating excitement around them. These events are often grand affairs because their primary purpose is to create anticipation and drive sales. To bring a new product to the market, companies may host detailed demonstrations of their latest offering. Depending on the size of the target audience, these launches can attract dozens or even hundreds of attendees. The guest list typically includes journalists, bloggers, influencers, industry analysts, and potential clients.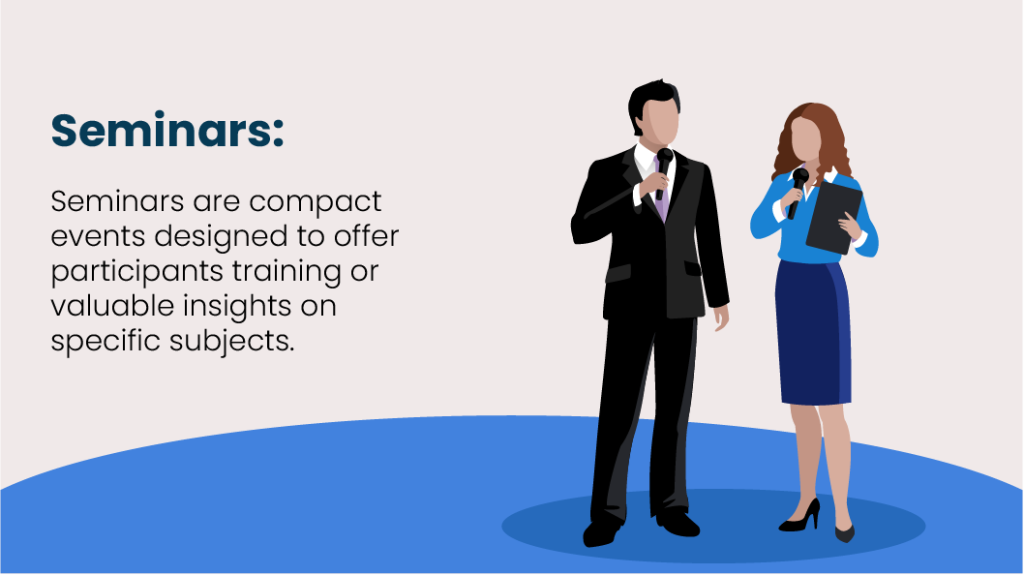 Seminars :
Seminars are compact events designed to offer participants training or valuable insights on specific subjects. They come in different sizes, ranging from intimate and specialized gatherings to mid-sized sessions, typically accommodating fewer than 100 attendees. Seminars often delve into topics related to personal development and business strategies.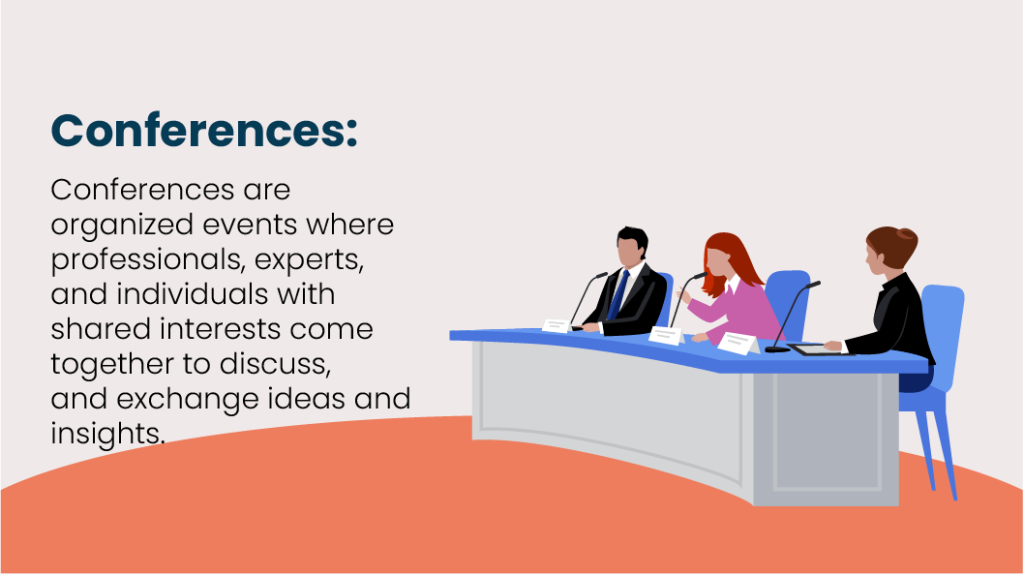 Conferences :
Conferences are organized events where professionals, experts, and individuals with shared interests come together to discuss, present, and exchange ideas, information, and insights related to a specific field, industry, or topic. Conferences can vary in scale, format, and focus. Conferences play a significant role in advancing knowledge, fostering collaboration, and driving innovation within various fields and industries. They provide a platform for professionals and experts to share their expertise, learn from others, and contribute to the growth and development of their respective communities.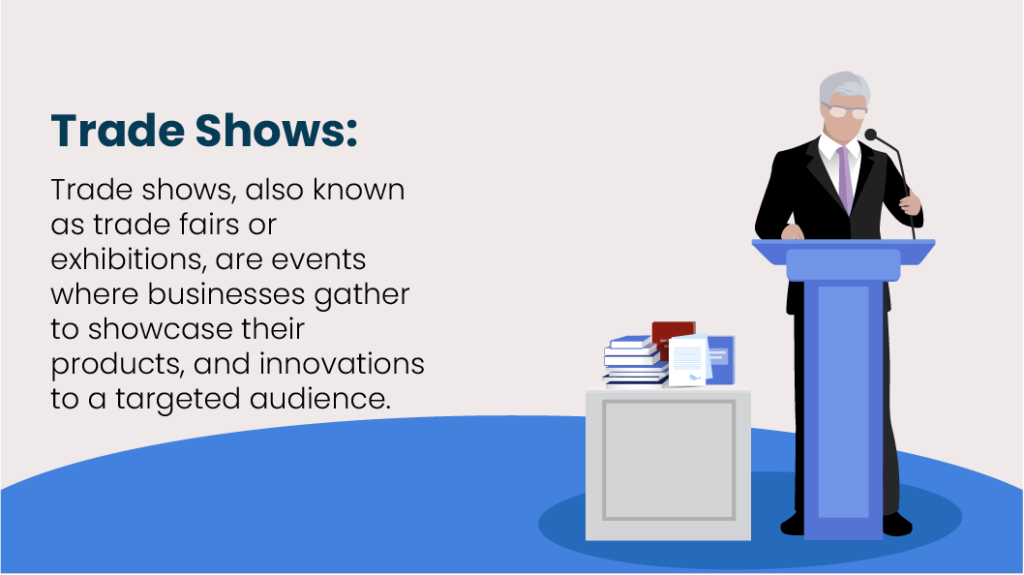 Trade shows :
Trade shows, also known as trade fairs or exhibitions, are events where businesses, organizations, and industry professionals gather to showcase their products, services, and innovations to a targeted audience. These events serve as platforms for networking, marketing, and promoting new offerings within a specific industry or sector. Trade shows are essential for industries seeking to showcase products, establish business relationships, and stay competitive. They offer a dynamic environment where businesses can thrive through exposure, networking, and collaboration within their respective fields.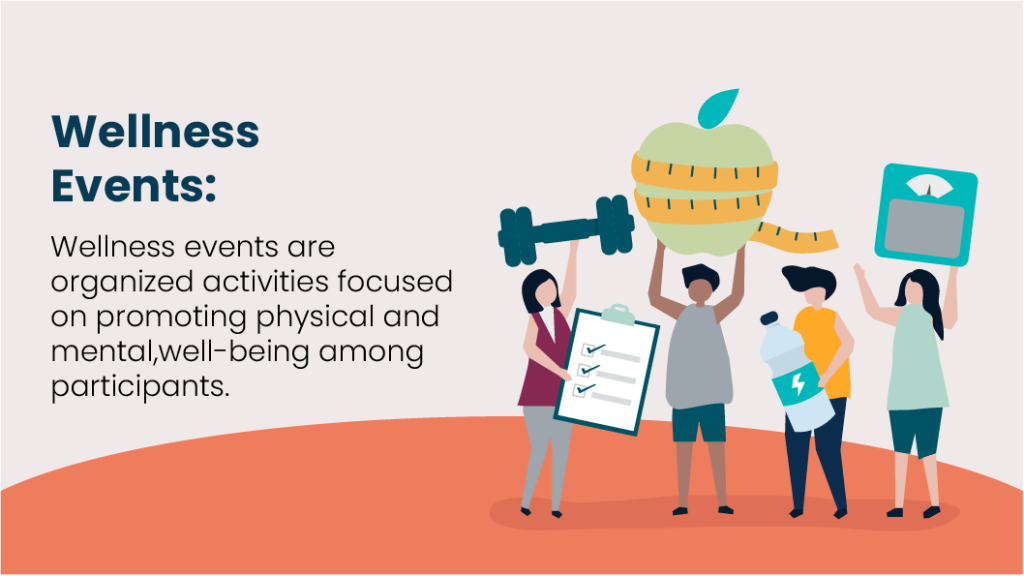 Wellness Events :
Wellness events are organized activities or gatherings focused on promoting physical, mental, and emotional well-being among participants. These events aim to educate, inspire, and encourage healthy lifestyles and self-care practices. Wellness events can take various forms and often include a combination of activities and workshops. Wellness events play a crucial role in promoting healthy living, educating individuals about well-being practices, and fostering a sense of community around health and self-care. They empower participants to make positive choices for their physical and mental health, ultimately enhancing their quality of life.