1. The Leela Palace, New Delhi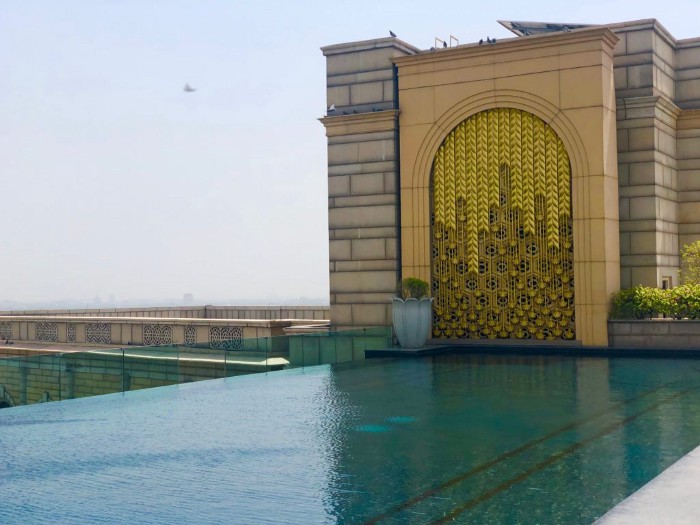 The infinity pool at The Leela Palace New Delhi is the highest and the only rooftop pool in the capital. The exclusive facility is also temperature-controlled and is thus accessible to guests throughout the year. While the pool itself is a sight to behold, it is further enhanced by sweeping views of the iconic city's skyline that include sights of Asia's tallest minaret -the Qutub Minar, famous Bahai House of worship- The Lotus Temple, Rashtrapti Bhavan- The President's House among other historic and modern structures. An urban oasis in the middle of the bustling city, it is a perfect place to relax and unwind and for event planning.
2. The Lodhi New Delhi
An urban oasis centrally located in New Delhi, The Lodhi is spread across nearly seven acres near the Lodhi Gardens, an extensive parkland with tombs dating back to the 15th century. The rooms and suites are some of the largest in the city and most of them feature private plunge pools and balconies. The 50 meter lap pool is adjacent to the Gym and is heated in winter.
3. Pullman Central Park, Gurugram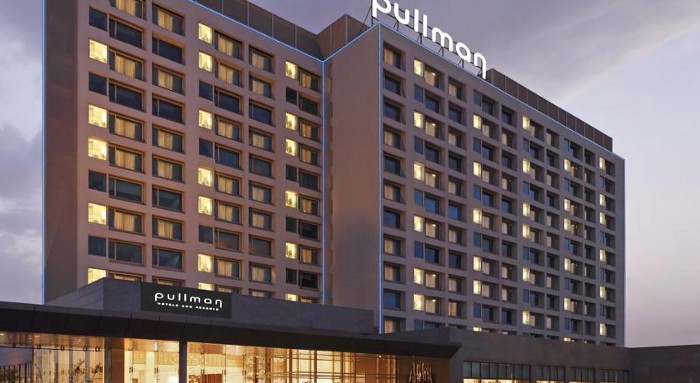 Located in the business hub of Gurgaon, close to the DLF Cyber City and Golf Course Road, Pullman Gurgaon Central Park is a five star hotel in New Delhi Capital Region (NCR) that offers state of the art facilities and impeccable hospitality to the business travellers and holiday makers. The pool offers relaxation during the dreaded Delhi summers and is an awesome outdoor event venue .
4. The Imperial, New Delhi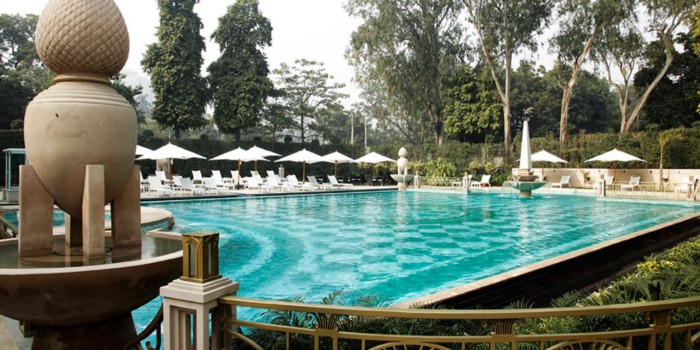 Built in 1931, this elegant hotel is 3 km from the New Delhi train station, 3 km from the India Gate monument and 5 km from the 17th-century landmark Red Fort.
Upgraded rooms and suites add multiple bedrooms, separate offices and living rooms, dining areas and/or whirlpool tubs. Room service is available. Breakfast and parking are free. There are 5 gourmet restaurants and 2 chic bars, plus a cafe and a bakery. Other amenities include a 16,000-sq-ft spa, an outdoor pool.
5. Maidens Hotel New Delhi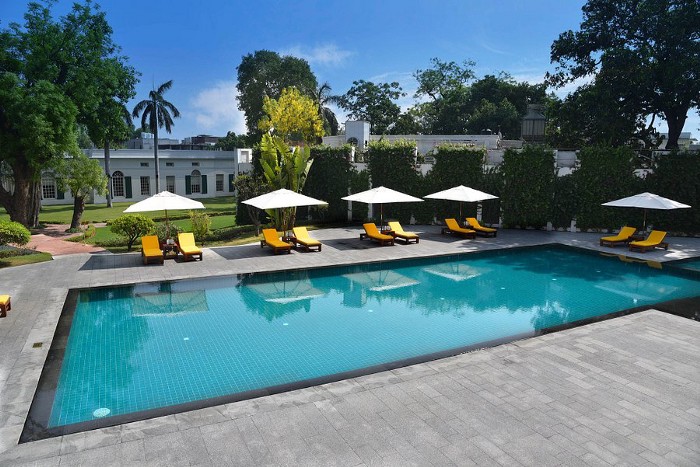 Built in 1903 and surrounded by gardens, this palatial hotel is 4 km from the 17th-century Red Fort and 14 km from the National Zoological Park.
The hotel has a garden terrace restaurant, a cosy bar and an elegant eatery with historic Indian photographs. Amenities include a gym, an outdoor pool and serene lawns with fountains. Valet parking is free.