Delhi, a city known for its rich history and vibrant culture, offers a plethora of event venues that extend far beyond the conventional. If you're seeking a truly unique setting for your next gathering, look no further. In this guide, we'll take you on a journey to unveil five hidden gem event venues in and around Delhi that promise to add a touch of magic to your special occasions.
1. Museo Camera, Gurgaon, Haryana
India's first centre for the photographic arts and an amazing event venue in Delhi.
Museo Camera is one of South East Asia's largest centres for the Photographic Arts. Situated in the heart of Gurgaon and spread across 18,000 sq. ft, the space offers a completely different feel to the Millenium city.
The first and second floors at Museo are exhibition galleries spaces. The museum also hosts events related to photography, such as exhibitions, talks, workshops, and screenings. The event venues are of different sizes and interconnected and can be adapted to host talks, book launches, private parties, and more.
Additionally, there are 2 spaces that double up as private conference rooms, studio spaces, meeting venues and can accommodate up to 30-50 people.
The in-house cafe, "Fig at Museo" has an indoor and outdoor seating space. The indoor space is connected to the Museo atrium while the outdoor space is surrounded by lush greenery.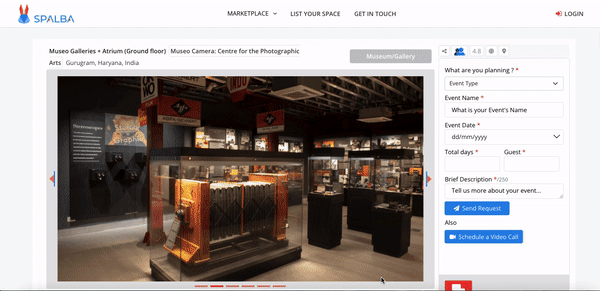 2. Tijara Fort – Palace – 19 Century, Alwar, Rajasthan
An exclusive weekend getaway from Delhi.
Just over 100 km away from Delhi, Tijara Fort Palace sits on top of Rajasthani terrains. While most heritage hotels in Alwar district are born with the beauty and treasures of history, not one offers such a spacious dream site where you can have a peaceful weekend. This makes it one of the best Event Venues in and around Delhi.
Seven terraced gardens command a magnificent view above the tall ramparts that have now been lovingly completed and restored. The gardens have been compared to the Hanging Gardens of Babylon, one of the seven wonders of the ancient world – and the ruins (now restored) to Machu Picchu !
Innovative thinkers need unique spaces for their minds to perform. The Neemrana brand of heritage hotels in India, offers exclusive venues for corporates to confer.
With its proximity to New Delhi and Jaipur, the 19th century Palace in Tijara, is a perfect event venue and hosts unforgettable and intimate offsites for professionals throughout the year.
The nearby city of Alwar, offers a number of historical and cultural sites to visit that are enriching and rejuvenating.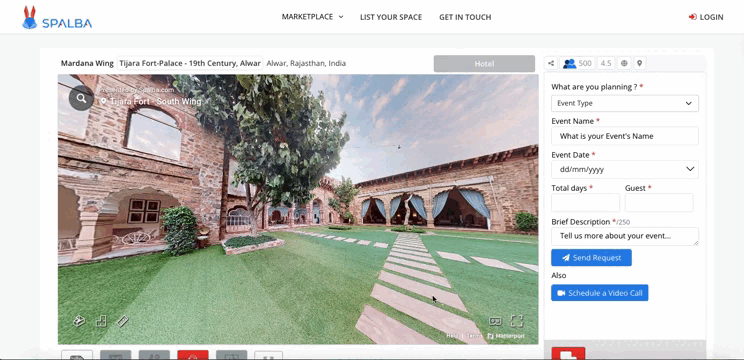 3. The Quorum, Gurgaon, Haryana
A members' only lifestyle club.
The Quorum, a private members' club designed with a global sensibility, is located on the plaza level of Two Horizon Centre on Golf Course Road. The clubs' transformative spaces, that spread across 22,000 sq. ft. lend themselves fabulously to any occasion; whether it's a social soiree or a corporate event.
The experienced events team works behind-the-scenes to create bespoke experiences; all that's left to do is enjoy our hospitality and make memories.
The Quorum has been an event venue to 400+ events since its inception in 2018 across the spectrum of business, tech, politics, art, fashion, literature, current affairs and much more; shaping culture in the NCR since 2018.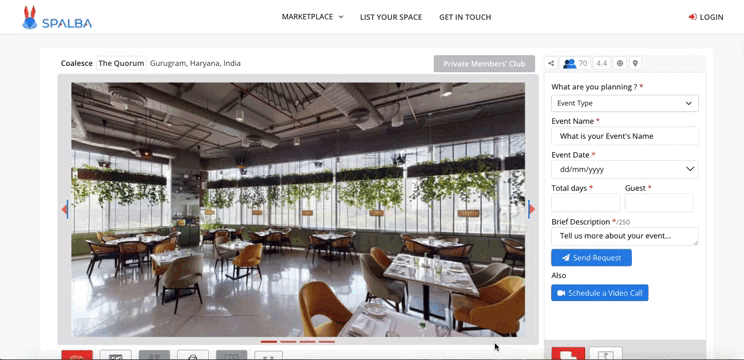 4. Kiran Nadar Museum of Art, Noida, Uttar Pradesh
The first private, modern and contemporary art museum in India.
Established at the initiative of the avid art collector Kiran Nadar, the Kiran Nadar Museum of Art is the first private museum of art exhibiting Modern and contemporary works from India and the sub-continent.
Located in the heart of New Delhi, KNMA as a non-commercial, not-for-profit organization intends to exemplify the dynamic relationship between art and culture through its exhibitions, publications, educational, and public programs.
KNMA aspires to become a place for confluence, through its curatorial initiative and exhibitions, school and college workshops, art appreciation discourses, symposiums and public programs.
The 34,000 square feet museum space has housed several critically acclaimed exhibitions that have celebrated Modern and contemporary art in the country and abroad.
KNMA is renowned for its collection as well as the position it holds within the city located in Noida at the HCL campus and Saket at the DLF mall. The Museum has various unique, sleek, contemporary spaces to house several events, such as corporate dinners, private gatherings, seminars, board and business meetings, conferences and screenings.
KNMA is an exceptional event venue to meet and network that can be adapted to the needs of the organization's events including technical and media support. Catering, group gallery tours and other additional services can be arranged while hosting events at the Museum to engage the audience and build your brand.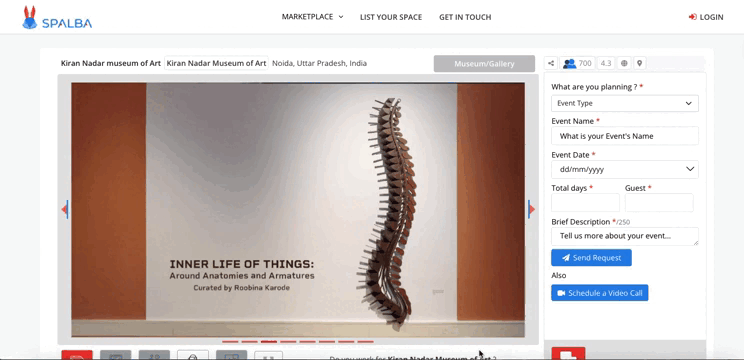 5. 1 AQ, Delhi, New Delhi
An iconic venue in the heart of Jaipur.
1AQ is a creatively inspiring space established to promote and discuss ideas in contemporary art, encompassing visual and performing arts, music, dance, theatre, fashion and design. It is situated in Mehrauli, the heart of delhi's heritage area, a stone's throw away from Qutab Minar, an iconic monument of delhi and consists of a spacious art gallery, well-manicured gardens and a unique art and design shop.
Conceptualized by Anubhav Nath, 1AQ extends into a distinctive three thousand square feet space and is steadily gaining patronage of artists, art lovers and collectors across the globe. Coherent with its mission 1AQ offers its gallery space to creative individuals covering a variety of art genres including fine arts, photography, fashion, design and music.
Above all, 1AQ aims to help people to look at the works of art with greater joy, understanding and knowledge by extending their relationship with our daily life and experiencing them as vital expressions of the human.