Speaking at Google's recently held annual event, CEO Sundar Pichai made an exciting announcement about Google Maps' new feature. This feature will enable users to explore places in a whole new way through Maps. By offering an immersive view, users will be able to experience what a neighbourhood, restaurant, or any other popular venue looks and feels like. Users will feel like they are right there at the specific landmark by simply viewing it through Google Maps. This got us thinking – Something as vast as Google Maps, which is used globally on a daily basis, is making simple exploration more immersive. So, why are we still relying on photos to select event venues? Digital Twins vs photos, the answer is that by adding the element of immersiveness, venue exploration can be made much more meaningful and valuable. Unlike photos that never provide much clarity, immersiveness enables you to experience the event space before you even visit the venue.
Introducing Digital Twins
In the simplest terms, Digital twins are the immersive 3D tour experience of your property which makes you feel so real, as if you are there at the property.
With the advancements in virtual reality and augmented reality technologies, 2D images are slowly losing significance and 3D Digital Twins are proving to be their perfect replacements.
Digital twins have showcased tremendous potential and are poised to be the next big thing in event planning. From helping in the planning and crafting of world-class events to enriching attendee experiences by creating more immersive and interactive virtual spaces, Digital Twins are transforming the global events landscape. Read on to understand why photos are becoming obsolete and Digital Twins are the way forward for the events sector.
The Key Benefits of Digital Twins for the Hospitality Industry
1. Immersive Virtual Tours
Venue selection is an extremely tedious facet of event planning and conducting events. Organisers generally have to physically visit all the shortlisted hotels or venues to finalise the venue that's most suitable for their event. This involves assessing the features of the venue along with the audience capacity, security practices and other specifications. With immersive 3D tours, Digital Twins of hotels are eliminating this hassle completely. Event planners are able to properly explore the venues virtually without having to actually go to the property.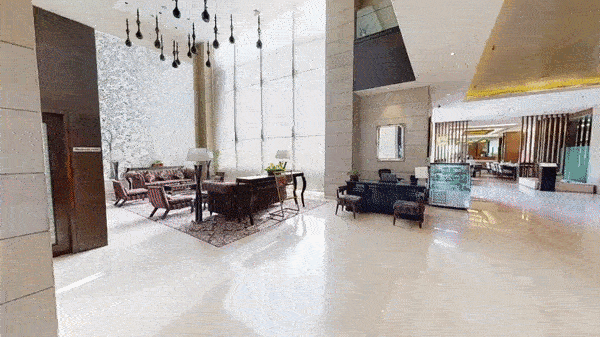 2. Virtual Recce Tools
After selecting the venue, the event planning team needs to recce the venue, i.e., thoroughly inspect the space to ensure that everything runs smoothly on the day of the event. This can be extremely time-consuming, even without considering the time taken to commute. Using Digital Twins can help event planners to quickly transport to the venue virtually and successfully recce the entire space. Most importantly, Digital Twins vs photos enable event planners to explore the venue at their own pace and get a feel of the entire place, which helps in designing the event exactly as per the client's requirements.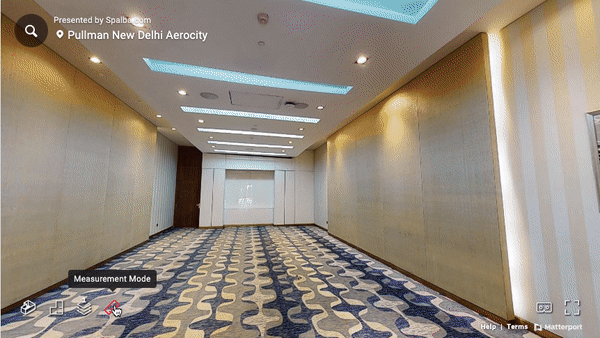 3. Shortened Sales Cycle
While booking a venue for any event, there is much more to examine than just the actual hall or event space. Amenities, technical specifications, along with security measures have a major influence on the client's final decision. But showcasing all the amenities and elements of the venue in person could be very time-consuming and sometimes, not possible in a single meeting. With Digital Twins, clients are able to easily explore all aspects of the venue at their own pace and make quick decisions for venue booking, thus shortening the sales cycle.
4. Faster Decision Making
Digital Twins vs photos go a step ahead, offering not only 3D virtual tours but also dimensionally accurate floor plans. Also, Digital Twins can enable you to incorporate various marketing or branding elements inside the virtual world, which helps in engrossing potential clients. The 3D virtual walkthroughs provide a more realistic representation of your property, giving visitors the chance to experience the entire property. Highly immersive experiences translate to better engagement, thereby driving faster and better conversions for your hotel or event venue.
Now is your chance to capitalise on the immense benefits of Spalba to fortify your event planning efforts. Don't miss it for the world. Contact us today to know more about how Spalba can simplify and streamline event planning for you. Request a demo to get an in-depth understanding of our platform.
5. Global Exposure
The simplified venue selection process brings with it another major benefit – global exposure. With geographical boundaries blurred, hotels and venue owners are able to attract clients from different parts of the world through Digital Twins. May it be for business conferences of multinational organizations or for international expo events, venue owners can have the advantage of showcasing their properties virtually to potential clients with the help of Digital Twins.
6. Immersively Engaging & Portraying the Real 'Image'
In today's digital age, people prefer to thoroughly examine a hotel via the images available online before actually going to the place. But when you do go to the hotel, the place is quite different to the picture that you had conjured up in your mind based on the images. Whereas with Digital Twins, guests know that the space that they are looking at virtually will be exactly the same in real life. This helps in engaging the potential guests and instilling confidence in their minds about the event venue's authenticity and reliability.
So, now we know Digital Twins vs photos, which gives a best experience.
Ready to get started! Request a demo today.